Can you give this greyhound a home?
All of our greyhounds are neutered, micro-chipped, vaccinated, wormed and flea-treated and come with 4 weeks' free insurance with Petplan.
TOGETHER WE CAN MAKE A DIFFERENCE
DUE TO HEALTH ISSUES FOR THE ADOPTER…… MOTHER AND DAUGHTER DEE DEE AND PORCHA NEED A NEW HOME …..
Here is the detailed profile that her previous owner sent us. They sound absolutely delightful!
"Brindle Dee Dee (Coming 8) and her black beauty daughter Porcha (Coming 4) are in need of a new loving family. Recently, their current adoptive Mom has been in hospital & is no longer able to look after them in the way they deserve. After much soul searching and buckets of tears, the heart-breaking decision to put them up for re-adoption had to be made
Elegant, dainty Dee Dee is a well natured hound who loves nothing better than roaching on the sofa, preferably right next to a human who will gaze lovingly into her deep brown eyes. She is affectionately nicknamed 'Princess' because of the regal way she sits and commands her adoring public!
Walks in the park are OK so long as it isn't raining. Who wants to get wet? & don't get her started on the annual humiliation of a bath at Broadmarsh! Snow is quite good fun though – for a short time at least. She likes to de-stuff & de-squeak soft toys in short order but isn't destructive of the soft furnishings! She will share the remnants with Porcha & other visiting dogs quite happily.
Naturally inquisitive (watch out for anything edible in handbags, pockets & particularly kitchen work surfaces), she welcomes visitors to her home with enthusiasm. Dee Dee likes children, though her need to clean them up means that toddlers can find her a bit daunting to begin with. Her favourite treats are cheese & hot dog sausages! This beautiful girl hates small furry 'things' aka dogs. Two attacked Porcha in the park & then turned on Dee Dee when she went to protect her daughter. She now regards them as not worthy of her attention & hasn't needed to be muzzled for the last 6 months! Any other dog from spaniel size upwards is regarded as a potential friend. Other greys are automatically part of the gang. Squirrels & cats most definitely are persona non grata!
Porcha. Where to begin? She is quite a big, muscular girl. Her shiny, silky, black coat and deep brown eyes just beg to be adored. Cuddles are constant demands. Whilst she didn't get as far as race training, she would clearly have been fast. Her affectionate nickname is 'The Demon'! This is because if there is mischief to be had, you can bet that Porcha is the instigator. She is an escape artist who knows that there is adventure to be had on the other side of the fence! All this bravado hides a fear of stairs. Going up isn't a problem but looking down brings on a state of leg shaking, scream of death, vertigo! She has been trying to conquer this terror recently, aided by cheese & persistence & has managed return journeys all bar the top two stairs! Like her Mom, she is naturally friendly with humans and their children. Dogs of all sizes aren't a problem, but then, she is confident in her superiority! Her best friend is a big male collie cross & they love to chase round the garden & play tug of war with the remains of rope toys. Porcha just loves food, full stop. There's not much she won't do for cheese & Dee Dee's bowl is fair game if she turns her back – she gets a severe ticking off from Dee Dee if caught!
Dee Dee & Porcha are a constant source of joy, love and amusement. A recent adventure together saw us at the on the beach for the first time. Dry & wet sand wasn't a problem. Sandcastles were mysterious and seashells were salty. Paddling in the shallows was fun considering neither are keen on water. They even met another grey and had fun with him. Fun was over though when a rather large wave caught Porcha unawares from behind. The look of disgust on her face would have made King Canute cringe! Back to the car then!
Both girls walk well together on their leads and rarely pull unless they see a squirrel a mile ahead. They are comfortable travelling distances in the car – Cornwall? No problem & who needs a wee break? Whilst they will obey verbal & hand signals to sit, lie down, leave & stay, they are easily distracted. Neither have ever been let off their leads whilst walking in open spaces. They have always been together and would suffer separation anxiety if split up. They are content to be on their own for 4 or 5 hours at a time – just be prepared for the biggest of welcomes when you get back!"
If you can offer a home to these two wonderful hounds then please call us on 0121 426 4810 or contact us to make an appointment to meet them.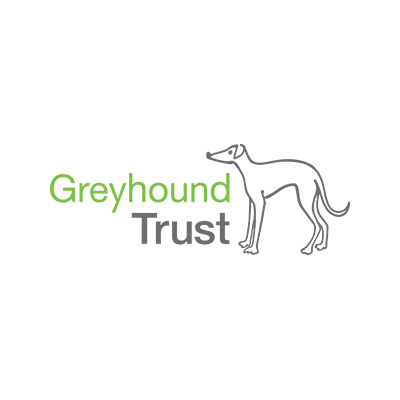 Greyhounds make great pets
Do greyhounds make good pets? Can they live with cats and small children? How much do they eat? Are they susceptible to specific diseases? Do they need lots of space? If you've got questions, we've probably got the answers. See our guides to everything grey!
"adopting just one greyhound won't change the world…
but the world will surely change for that one greyhound"
Like us on Facebook
Keep up-to-date with what's happening at Hall Green on our Facebook page
LIKE US ON FACEBOOK
Follow us on Twitter
Follow us, and share with us by tagging your greyhound tweets with @gthallgreen
FOLLOW US ON TWITTER
Follow us on Instagram
Follow us, and share with us by tagging your posts with @greyhoundtrusthallgreen
FOLLOW US ON INSTAGRAM