Can you give this greyhound a home?
All of our greyhounds are neutered, micro-chipped, vaccinated, wormed and flea-treated and come with 4 weeks' free insurance with Petplan.
TOGETHER WE CAN MAKE A DIFFERENCE
Hi everyone, I'm Toby. Please read my story...
I'm a beautiful 10yr old, older gent, currently in foster with Alison, one of the volunteers. I'd like to tell you a bit about me if you have the time..?
After finding it a bit difficult in the kennels, Alison heard about my story and said I just had to come and stay with her for a while. That was about 3 weeks ago. Neither of us were sure what to expect, but so far it's going great! I'm completely housetrained and haven't had a single accident in the house so far 😊 Alison lets me out frequently, but I'll always let her know if I need to go out again.
When I was first here, I was very anxious in the garden and would run straight back in after going to the loo, but now I like to mooch about and sniff for a while. I love my food and eat all of my meals every day - I'm a bit partial to some fresh chicken or a sardine. Yum! It seems I've already put on just over a kilo since being here, which is great as I was little underweight. But beware, I will wipe my face all over my bed once I've finished my meal. Tee hee 😁 I love treats too and will take them ever so gently from you. I have great manners and won't bother you at all when you're eating your meal though.
I adore going for my walks each day, I'm very easy to walk (you can see in the video that Alison's Mum, who's in her 70's (am I allowed to tell you that..?) is able to walk me). I don't pull on the lead and I LOVE to sniff. And sniff. And sniff! I've come across cows, sheep, horses, police & ambulance sirens, massive tractors etc. and I haven't been bothered at all. I'm curious about cats and squirrels, but am not reactive - but I haven't been around any without my lead or muzzle on. I will greet other dogs and their owners very politely, but if the dogs are buzzing around me too much, or staring at me for a bit too long I can get a little anxious and just want to head off away from them.
I prefer to do my own thing with my human really. I travel very well in the car and am figuring out how to jump in, but I need a bit of help getting out as I can't really work out where the ground is. Alison and I had a daytrip to Tewkesbury this week, where I was the perfect travel companion - in fact I was invited into Tewkesbury Abbey by one of the wardens and had a lovely look around! Star treatment! We then went to a cafe where I was the centre of attention. I liked it for a bit, but Alison could see I was getting a bit unsure of all this attention and so she encouraged me to have a nap on the floor beside her instead, which I did. After any walk we have, I will easily let you clean all my paws before we go back inside.
I love visitors and welcome them into the house with a very waggly tail and a play bow, but I will need to know and trust you a bit better before I will allow you into "my space" for too long. My beds in both the living room and bedroom are my safe spaces and if I don't know you very well, I will show you some doggy body language that you're making me feel a bit uncomfortable and that I'm politely asking you to give me some space (I will avoid eye contact and freeze a little bit). In fact, I gave Alison a little growl when I first got here, because I needed that space and she was very pleased that I'd told her I was uncomfortable and so then we understood eachother a bit better. I'm soooo much better with Alison when I'm on my bed now, I'm trusting her more and know she won't hurt me - why I even start to nod off on my bed when she's stroking me and I have a full tummy. I'll likely struggle with other animals or children - or well meaning adults - if I feel I'm being overwhelmed in my space and you can't see what I'm telling you.
Alison worries there's a slight chance I could perhaps give a little nip if my warning signs haven't been seen, but I truly am just a gentle, sweet soul who wants to love and be loved 💞 I just enjoy peace, quiet, calmness and predictability...until I know we're going for a walk,then all quiet and calmness goes out the window!!! 😆
I sleep upstairs on my bed (under a very snuggly blanket) beside Alison's bed. I wasn't really sure how to get upstairs, but I've worked it out (we always come downstairs together though, with Alison helping me go slow). I really love to get settled early and so at about 8:30/9:00pm most evenings, I tell Alison I'd like to go to bed and get settled please! I have a lovely snooze upstairs in the quiet and then pop out to the loo again before lights off. Beware though, I will need to wake you at about 2 or 3am nearly every morning to go outside for a pee and poop trip. Alison's a light sleeper, but I will cry at the door to let her know I need to go out too. I also sometimes get sleep startle and nightmares. I wake up with a start and dash about in a bit of a panic. I then tremble and stick to Alison like velcro, because I'm not sure what nasty thing's out to get me 🥺 She lets me know there's nothing at all to worry about. Then I get tucked back in and sleep really well.
If I'm left alone for a little while, I won't destroy anything or rip anything up. I'll just nap and wait for you and perhaps have a look through the window to see what's going on in the neighbourhood I don't ever try and get on any of your furniture (but...I think Alison's noticed that the big armchair under the window is sometimes warm when she gets home and somehow the two cushions are a bit squashed. But, it's nothing to do with me, honest!) When I hear your car arrive home, I'll bark with delight, will greet you with numerous play bows and will do numerous zoomies around the garden to show you how happy I am that you're home.
So, that's my story, thank you so much for reading it. I'm told I am an absolute sweetheart, a real little gem and Alison does think I'm totally and utterly wonderful. I hope you do too 🥰
Would you consider giving me a chance of a "forever" home?
If you think you could give help Toby, then give us a ring on 0121 426 4810 or contact us to come and visit Toby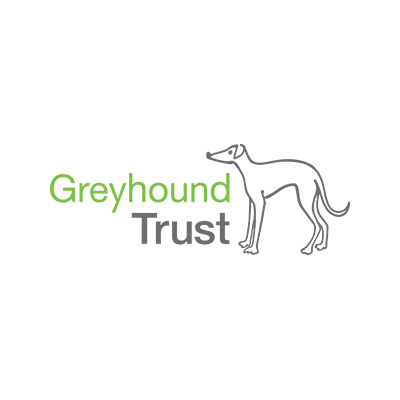 Greyhounds make great pets
Do greyhounds make good pets? Can they live with cats and small children? How much do they eat? Are they susceptible to specific diseases? Do they need lots of space? If you've got questions, we've probably got the answers. See our guides to everything grey!
"adopting just one greyhound won't change the world... but the world will surely change for that one greyhound"
Like us on Facebook
Keep up-to-date with what's happening at Hall Green on our Facebook page
LIKE US ON FACEBOOK
Follow us on Twitter
Follow us, and share with us by tagging your greyhound tweets with @gthallgreen
FOLLOW US ON TWITTER
Follow us on Instagram
Follow us, and share with us by tagging your posts with @greyhoundtrusthallgreen
FOLLOW US ON INSTAGRAM