Another happy homing story
We love hearing from you about how your re-homed hounds are getting on and what they've been getting up to in their retirement.
TOGETHER WE CAN MAKE A DIFFERENCE
This is Paddy having a sneaky drink of my water when I was away from the sofa.
We adopted Paddy from Hallgreen Greyhound Trust as company for our female greyhound Cara, after we lost our grey Billy in January 2018
We were drawn to Paddy for a number of reasons, he is black (like Billy and Cara) and he had been overlooked and in kennels for nearly twelve months.
Paddy was overlooked as he appeared quite aloof and didn't show himself very well. When we went to visit him, he didn't wag, kiss or jump up and only stood pulling in the direction of his kennel itching to go back in there. This was because he saw the kennels as his home and felt safe there. This didn't deter us because we knew one day he would see our home as his kennel.
Once Paddy was home it was all very strange for him as he was six and a half and never been in a house before. For the first few nights he wanted to sleep on the same bed as Cara as he was used to sleeping with other greys so I put some cuddly toys by him to feel safe. He barked at the badgers that came in the garden next door for the first few nights but soon stopped this. He has never done any of his business in the house and learnt from Cara that he needed to go outside. On his second night he lay on his back and roached for hours, so much so that we thought something had happened to him as he didn't move for hours!
When Paddy went out for walks he was very nervous to start with as he wasn't used to noise, cars and people. He pulled in every direction possible but soon got used to it and now he doesn't pull at all. Even after two days he learnt where to turn into the gate to our house.
Paddy is the most fussy, loving dog you could ever have. He puts his head on my shoulder if I'm sitting down and jumps up Rich when he comes home from work. He is also very funny as he zooms round the garden and leaps off our steps so far that he nearly reaches the french doors about two metres away!
He's lovely and so funny. He makes us laugh all the time.. He's clever as well because he only gets on the furniture when we aren''t in the room and only comes upstairs if I go in the shower! He loves to hook his leg around my ankle too when I sit down and he lies at my feet, it's as if he has to be touching!
Please don't overlook greyhounds who may seem quiet, shy or aloof in the kennels. They will be a completely different dog once they are home. Please also don't overlook males as they are very loving and Paddy is proof of this!
Deb & Rich.
CAN YOU GIVE A GREYHOUND A HOME?
Call

0121 426 4810

for more information, to arrange a visit, or...
CONTACT US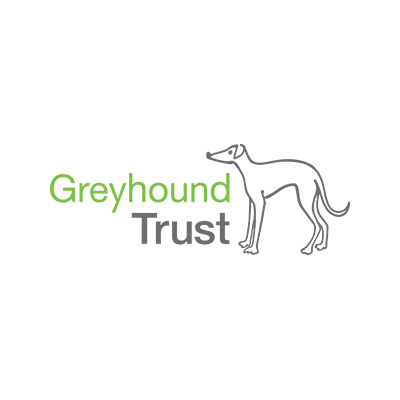 Greyhounds make great pets
Do greyhounds make good pets? Can they live with cats and small children? How much do they eat? Are they susceptible to specific diseases? Do they need lots of space? If you've got questions, we've probably got the answers. See our guides to everything grey!
"adopting just one greyhound won't change the world... but the world will surely change for that one greyhound"
Feature Box Title
Keep up-to-date with what's happening at Hall Green on our Facebook page
LIKE US ON FACEBOOK
Feature Box Title
Follow us, and share with us by tagging your greyhound tweets with @gthallgreen
FOLLOW US ON TWITTER
Feature Box Title
Follow us, and share with us by tagging your posts with @greyhoundtrusthallgreen
FOLLOW US ON INSTAGRAM